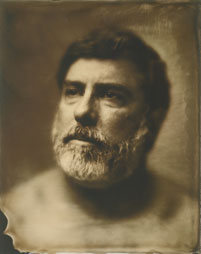 Harris Fogel is an independent scholar, gallerist, curator, and journalist. Previously Fogel was an Associate Professor of Photography, and served as director and curator of the two photo galleries (Sol Mednick Gallery and Gallery 1401 – the latter of which he founded in 1999) from 1997 to 2018, and was the Program Director and Coordinator of the Photography Program (2006-2008), and Chair of the Media Arts Department (Photo/Film/Animation) at the University of the Arts in Philadelphia (1997-2006). The Sol Mednick Gallery was founded in 1978 by then-Department Chair Ray Metzker, and was named after the founder of the University of the Arts Photography Program, Sol Mednick. In 2001, the Sol Mednick Gallery received the prestigious Photo Review Award for service to photography. Fogel has directed, curated, and organized more than 275 photography exhibitions over the past thirty years.
Fogel served as curator and juror for the Texas Photographic Society's "TPS 15" National Competition. He has been a portfolio reviewer for the FotoFest Meeting Place (Houston, TX); at Photo Lucida and Critical Mass (Portland, OR); and at Society for Photographic Education (SPE) and ASMP conferences, among others.
He is a documentary and fine-art photographer with an extensive background in digital imaging, criticism, photojournalism, and photo history. In his work he utilizes various formats, including digital cameras, scanners, 35mm, medium format, 8×10 & 4×5-inch view cameras, and digital video. Some of Fogel's projects include the nuclear-inspired "Toward Trinity" project, based on the first test of the atomic bomb; photographs from the set of the TV series The Wonder Years; portraiture; a series on Howard Finster's "Paradise Gardens"; the large- format color exhibition and book project A Few American Cultures; several artist's books; and other digitally based work. His research on the relationship between photography and the American Presidency has led to interviews with President Jimmy Carter, President Gerald R. Ford, and First Lady Betty Ford, and many other White House officials and photographers from numerous administrations.
Fogel maintains a substantial exhibition and lecture record and his work can be found in the collections of museums, including The Metropolitan Museum of Art; The National Museum of American Art at the Smithsonian Institution; the International Center of Photography; the Los Angeles County Museum of Art; the Bibliothèque Nationale, Paris, France; and the High Museum of Art, Atlanta. Fogel's artist's books are found in the library of the Museum of Modern Art in New York. He is a founding member of the Atomic Photographers Guild, created in 1987 by Robert Del Tredici.
Fogel is host and executive producer of Mac Edition Radio (www.maceditionradio.com), an online resource for technology, photography, music, audio, and digital imaging. From 1996 to 2006, he was co-host and executive producer of the Philadelphia radio show PC Talk-Mac Edition on CBS Talk Radio. Fogel has written for art- and photo-related publications and projects, and has taught photo history for more than 30 years. In 2007 he was a Visiting American Expert for the U.S. Embassy, Warsaw, Poland; a University of Georgia Center for Humanities and Arts Visiting Artist, Athens, GA; and UCross Foundation Resident, UCross, WY. In 2012, he was named to the Fulbright Specialist roster.
He visited Łódź, Poland, to participate in the 2012 annual International Fotofestiwal of Photography as one of the festival's visiting experts. The United States Embassy in Warsaw sponsored his trip. In fall 2014 he was invited to participate as a lecturer and portfolio reviewer at the Festival of Photography, held in Plovdiv, Bulgaria. The U.S. Embassy in Sofia, Bulgaria sponsored his trip to that festival. In 2014 Fogel was asked to serve as a nominator for the PDN (Photo District News) 2015 Emerging Photographers issue of the magazine, published in March 2015.
Tintype Photo Credit: © C.J. Harker 2014
hfogel@aol.com
http://dominiquejames.net/blog/2016/2/21/qa-harris-fogel